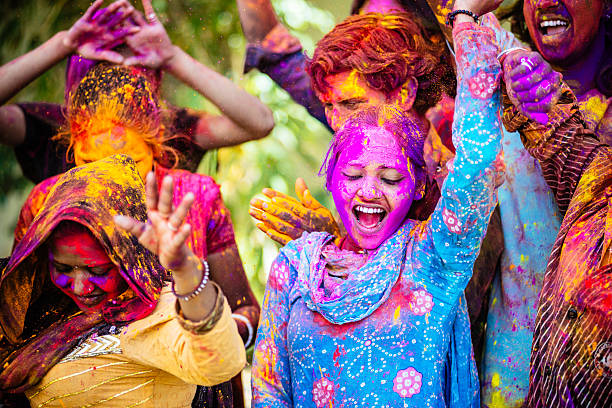 Rang ke saath Rangeen Hansi
Holi ki hindi me, prem kahani
Maine soch

rakhkha tha ,Holi ki do din chutti miley mujhey,do experience share karunga hi,aap logo ke saath.Holi ki bahut sare Badhaiye aap logo ko!khushia manaiye aapne Paribar ke saath....
Prem kahani ki First scene
Andul station,south eastern line me howrah se ye saat number station hay.Morning shift me yeha scooty jama deke, office ke train pakad ta hu.Train agar let kare to ek cup chay pi leta hu,do char jaan pahechan wale mil jate hay,morning walk karte hua,thodi baat chit,desh ka hul hakikat,jo mere sar ke upor se jate hay.
Office yatri yo ki jaldi jaldi aana,retired logo ki bench me jamke baith ke gup marna, kolkatta me padne wale bachche na jane ki ichcha se ma ki haath pakad ke ja raha hay,isme se sirf ek hi picture alag hote hay,aath, dus young ledke jo football leke roz hi jate hay station ki over bridge cross karke,maidan me practice karne.
Pata nehi suve suve itna energy inke paas kaha se aata hay.Bhagte hua,daudte hua ,ball ko dribling karte hua bridge ke upor se jate hay.Yisme humare para ke char chay ledke hay,Chitto da ke ledke Apu,yani ki Apurbo bhi hay,lagta hay wohi leader hoga,samna hote hi "namaste uncle"kaheta hay.
Apu bussiness mangement kar raha hay.Uska bada bhai Bank ki officer hay,aur Chitto da to travel company ke malik hay.Kolkatta me, jamke inbound,out bound tour karba te hay.Business bada hay unke.
Aaj 6 -10 am ki Panskura local let hay,kam se kam 25minute baithna padega,kya kiya jaye,ek chay order deke, news paper me nazar dal raha hu....baith gaye tea stall ki bench pe,over bridge ki staire samnei hay,train ane ki announcement hote hi--
-"Kamal Da ek chay do badiya karke"
-"Baitho bhaiya,train pochchis minute let hay ."
...do char aur aagaye chay pine jo bhi train pakad ne wala tha.Apu apna team ke saath daudte hua aa raha hay,bridge ke upor se,Unhe dekh ke koi bola-
- kisi din a log na accident karega,itna bhagte hua ,daud te hua aate hay na.....
Mere nazar fixed hay un logo ki daudne ka upor,may aise bhag nehi sakte,mere to swas ki problem hay,inki daud ke saath khud ko mila leta hu may..daud te hua aa raha hay ,do do siri jump karke aaraha hay---
Tea stall ke taraf se ek ledki aa raha tha over bridge pe chadne ke liye,Apu achanak iski upor gir raha tha,siri se utar ne ke time pe,ledki uski samne aagaye,ek do chilla uthey, ledki niche ki taraf dekh ke ja rahi thi,achanak sor pe muh utha ke dekha!
fir khud ko bacha ne ki liye tea stall ki lagoa pump house ki dewar pe pith laga ke aankh bandh kar liye.Apu dono haath ledki ki dono taraf ki dewar pe laga di.Ledki muh ek side kar liye,Apu ki swas ful raha hay... thodi pal ke baad ledki ne aankh khola,dekha Apu usko touch nehi kiye lekin uski dono haath ke bij me khare hay..
Apu bol utha--halka sa smile karte hua---"Pagla chulka de,chulka de',ledki hath gayi aur bola--Janwar,Gunda,stupid......Tabtak Apu apna team ke saath station gate se bahar ,hum andekha kiya pura situation ko.
ye ledki humare para me nayi aayi hay.Aapne Bare bhai,Bhabi aur char saal ki bhatije ke saath raheti hay. iski bhaiya aur bhabi job karte hay bank me,Baby sitter hay bachche ki dekh bhal ke liye.Khud mass comunication pad rahi hay.
Aaj kaal ke health concious girl hay,isko dekh ne se achcha ho jate mon,real bengali beauty hay,aap dekho ge to aap bhi bolo ge bah,khubsurot hay!Naina is ke naam hay.
Mere off day tha us din,bazar jane ke liye ghar se nikla dus baje tak,chillate hua dekha Naina ke ghar ki baby seater daud hue bahar aaye,Naina ki bhatija bathroom me ghush ke nal khulne gaye to gir gaye floor ki upor,head injuri ho gaye,khun nikalte gaye,idhar udhar se sab jama ho gaye, usme se-
Apu bachche ko godi me liye aur apne dost ko bola byke le aa jaldi,fir byke ke pichchey baith ke WestBank hospital me le gaye,Bad me khabar mila..khun dena pada, paanch stich bhi hua,apu khun arrange kar dei,ledke ki Ma Baap bhi office se hospital aa gaye.Hospital se dusre din usko chutti di.
Naina gaon gaye the Apne Ma Baba se milne,Bhatija ke accident ke khabar milte hi dusre din dopaher tak yeha aa gaye.Ghar ke ander ghuste hi dekha Apu khel raha hay uski bhatija ke saath.
"Ai tum kiu inha ho",apna bag rakhte rakhte cillaye usne,Tumhe malum hay is bachche ko kaal kitna bara accident ho gaye?aur aaj tum iske saath khel raha ho?Raj baitho chup se"...Naina ki awaz se uski Bhabhi kitchen se nikal aaye,haath me ek cup chay-
-kya hua Naina ,aa ja baith na ,
-Bhabi ye gunda kya kar raha hay yinha?
-kaun gunda?
_Bhabi may gunda!Apu bola....Ho,hero may chala,Raj ko bola Apu
-Chay to pilo,Bhabi bola
_Bhabi,hot tea yis hot temper wali ko pilai ye,Apu ghar se bahar jate jate bola,Naina ke taraf dekh ke,
-Pagla chulka de,chulka de bhai, chul ka de!!!!
-Gunda ,pagal..
-Naina kaal raj ko hospital legaye the Apu ne,khun bhi diye usne,Deepali ko to saher ki kuch khabar hay nehi,ghar me tera Bhaiya ye May tha nehi.Jo bhi kiye Apu aur uski Dosto ne,hum jab hospital poucha tabtak Raj ko treatment mil chuka tha.
Yisi kahani ki suruwat
Holi aaj.Office chutti.Mere Beta aa gaye,Pakoda banega ghar me,Bhai ke ghar me bhang ban raha hay.Puran masi ke puja chal raha hay,Satya Narayan puja,Do char jaga invitation mile,khana pina(veg) hay,jaise Barin babu ke ghar,har saal ki tarah yis saal bhi sam ko gatharing hay unke ghar pe.
Holi ke gana,abir ki bindi,tea is a compulsary drinks,Puri sabji,mithai,halwa aur rahe ga recitation,Barin babu recitation ki teacher hay,ek time ke passion unko bahut hi popular bana diye.
Kamse kam do hazar student hay unki, hazar sqr ft ki hall banaye is ke karan, abhi bhi satur day aur sunday full hay student se.Sam ko unke ghar hum jate hay,har saal ,nehi to holi humere adha ho jate.
Sham hote hi pohuch gaye hum Barin babu ke ghar ,unka hay fourth floor me ghar.lift me se jana padta hay jhuma chali gayi Barin ji ki Biwi ke paas cooking me haath badane,beta aapna dosto ke saath gup mar raha hay,mujhe sunna aur dekhna pasand hay.
Bachpan se hi me thoda introvat hu,Log bate karte hay may sunta hu,sabko kitna kuch malum hay!me sirf hotel ke bare me hi jante hay.
Apu aaye aur mujhey namaste uncle bola fir mere bete ki group me jake samil hogaye,Apu ki Pitaji aaye mere paas,hum sab bate kar rahe the purane jamane ki.Naina aaye uski Bhaiya aur Bhabi ke saath,sang me bhatija Raj aur Baby seater Deepali bhi hay.
Naina kaise karke Apu ko dekh rahatha!Barin da hum sab ko bola-yisbar,Naina humare aaj ki progrrame ki Guest artist hay jo gana Gay gi...bahut hi mitha awaz hay uski,dekha Apu humlogo ki taraf dekha ,phir Hall se bahar ho gaye.Apu aur Naina ki ladai iske matlab khatam nehi hua.jodi hote inke aachachai!lekin dono ki ladai?
Antim drishya/Last scene
Khatum hone ka naam nehi le raha,may cigaret pine ke liye fifth floor ki chaad me ja raha hu,Lift ke paas Apu khara hay,nichey janeke liye,achanak Naina bhi aagaye,phir ladai hoga soch ke may upor chaad me gaye jina se.
Aram se sutta marke phir hall ki taraf aaye,chhad ki darwaza se bahar aaye to dekha,lift ka darwaza khul raha hay,,,auro ke saath Apu Aur Naina Bhi nikla,Ek ki Cheherey pe nila aabir aur dusre ki Mathey pe Pila aabir......Me jate,jate suna, Naina Bol Rahi ..Mere baad aana....Hall me,Apu ke Muh me halka smile.......
HAPPY HOLI..........