Combination of Pizza and Wine
पिज़्ज़ा के साथ कौन सी वाइन ले ?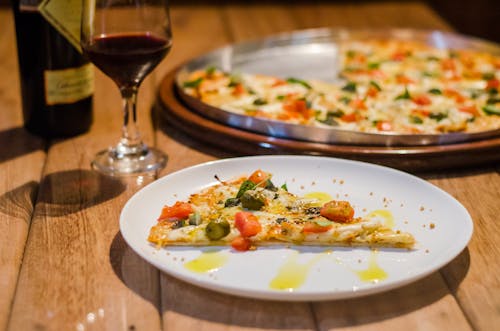 Pizza aur wine ki combination aajki topic hay!kya baat hay bahut logo ko khush dekh raha hu,topic ke decleration ke saath hi .Hotel industry me pizza and wine ek vital Sangat hay .Thoda knowledge
hona chahiye hum sabko yis combination ke liye.Fir khane ki khushiya bad jayga aapka.
Pizza Italian food hay.duniya bhar me mash -hur hay a.Pizza
healthy bhi
hay aur popular bhi.Veg aur non-veg dono mil jatey hay.Lekin dusra opinion bhi hay yiske against me.kahete hay Pizza flour(Maida) me se bante hay,ye un-healthy hay!fatty liver aur bad cholesterol ke karan hay Maida!
Chorey bahana, fir Pizza khana
Maida healthy hay ki nehi ,ye debet chod ke,chalie pizza test karte hay ,saath me test letey hay Wine ki .French wine ye to Italian wine ki swad letey hay .Pizza hona chahiye thin-crusht.Tomato sauce hona chahiye home made process ki,taza Mozarella cheese hona chahiye.Baki rahey gaye jo toppings aap mangte ho .Veg ye non-veg jo bhi prefer karteho wohi dalwa lijiye Pizza ke upor.
Piccadilly polo,ek most popular Pizza hay.Chaliye yise hi letey hay.
Yisme chicken baked Kiya jate hay,thoda pomace olive oil,halka flour,fresh rose merry ke saath,yise marinated karke, baked Kiya jate .fir chote,chote cube me topping ke rup me dala jate hay,Piccadilly polo me.350 degree temperature me pizza ko banay jate hay.
Kaunsi wine yis ke saath
Italian menu item me ,lete hay Italian wine.Aap koi bhi wine le sakte ho .Lekin wine aap ka Red Hona chahiye.Meat ke saath lena hay red wine.Cabernet shiraz ho,Da'vola ho,Rosso ho, koi bhi red wine chalega.Temperature hona chahiye, Indian climate me 22 ye 23 degrees.
Wine ki red color,yis ki khushbu lijiye wine glass ko, aapne nak ke pass laakey.
Pizza jarur ho 10 inch ki,8 tukra kare uski.8 slices appke samne plate me hay,Pizza ki tomato sauce ki base sour test dega.Creamy test aur flavour aa raha raha hay mozarella cheese ki.saath me chiken,Swarg abhi tak dekhey nehi hum,ye khana hay swarg ke hi!
Veg pizza ke saath white wine lijiye aur Meat ye pizza's item ke saath lijiye red wine.yehi combination solid hay duniya me. Pizza lene wala prefer karte hay saath me wine Lena.India me alcohol lene wala beer bhi lete aur whisky,vodka bhi .Par Wine ki choice pizza ke saath hay, perfect aur classic choice.Hotel industry me classic service aabhi tak chal raha hay.